Hiking
Sala — Gruvdammsrundan trail
Sala, Västmanlands län
Categories
Hiking

Trail running

Near parking

Near Public Transport

Near toilet

Culture trail

Circular trail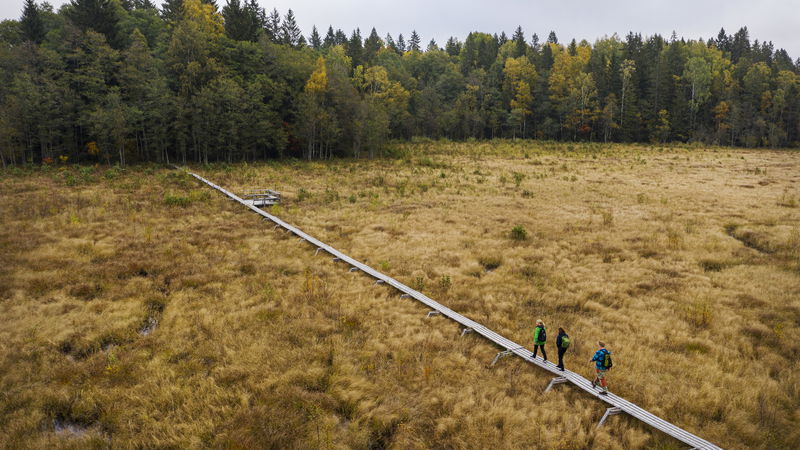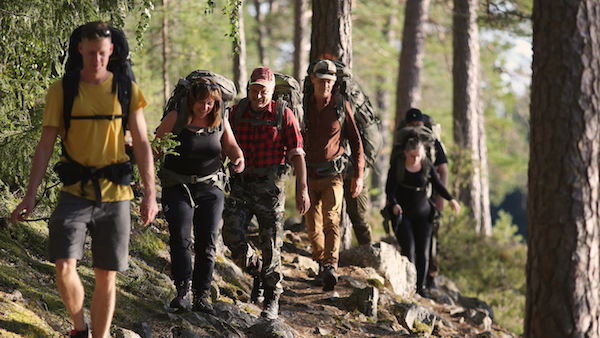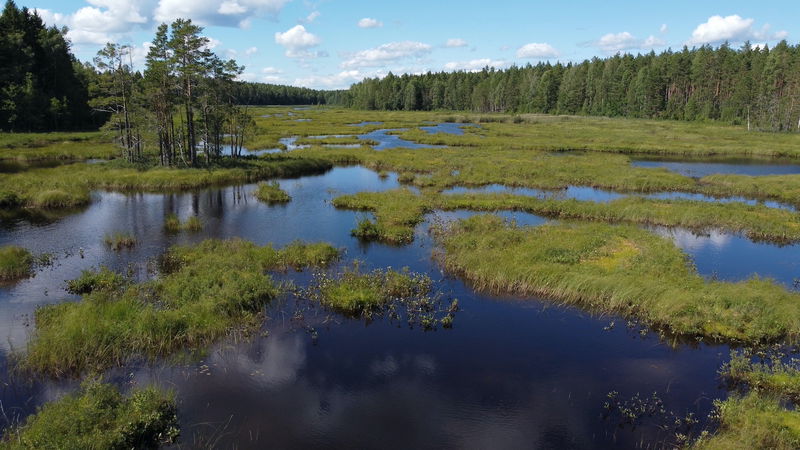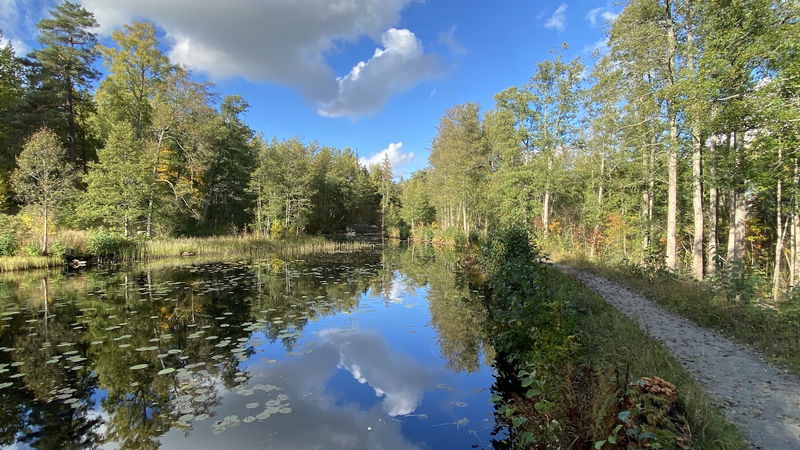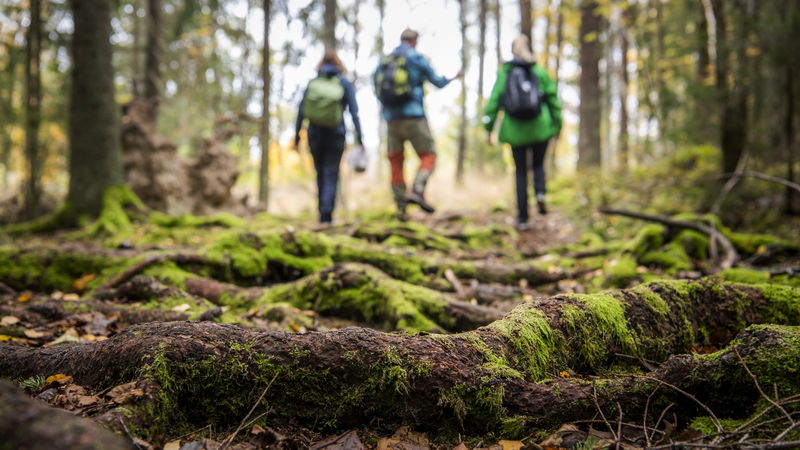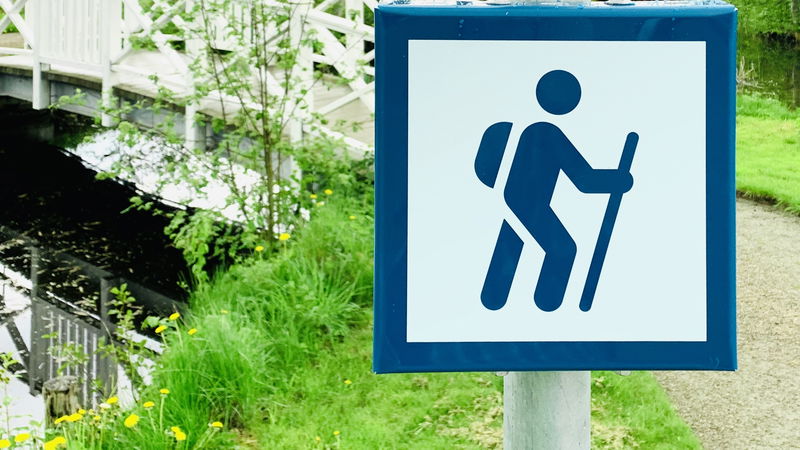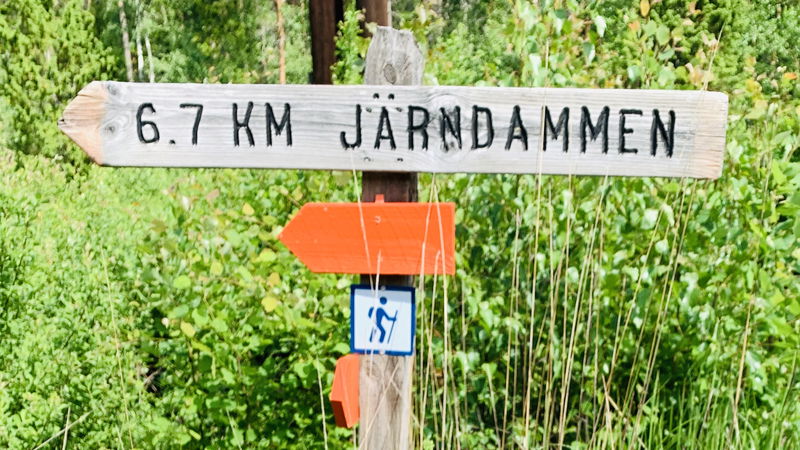 The Gruvdammsrundan trail is a lakeside, family-friendly hiking route that begins and ends in the historic mining town of Sala. The trail takes you through soothing forests, over fields of restful moss, and along several lakes ideal for swimming and fishing. The trail is perfect for anyone who wants to experience a mixture of idyllic countryside, beautiful nature, and fascinating history. The large waterway you encounter was at one time an indispensable part of the area's silver industry. You can hike around the Gruvdammsrundan trail in its entirety (26 km) in one to two days but also walk its shorter stages: the lower loop (22 km) or the upper loop (11 km). Overnight accommodations are available along the trail. You can spend the night at scenic campsites and beautifully situated wind shelters.
The terrain along the Gruvdammsrundan trail is varied. The route mainly follows natural forest paths, but some stages include well-kept pathways and gravel roads. The ground is flat, and walkways and bridges take you safely over water. Along the trail, you will find nice wind shelters with fire pits, toilet facilities, and a lot of pleasant picnic areas. There are plenty of natural spots to pitch a tent alongside the stunning Järndammen lake, but there are also sites to set up next to the wind shelters by the Olof-Jons damm lake. During the summer, there is a clearly marked water station where you can refill your drinking water just off the trail at Järndammsstugan cottage. To ensure you keep on the Gruvdammsrundan trail, follow the orange trail markers on trees and poles.
The entire Gruvdammsrundan trail is 26 km long and takes 7-9 hours to hike, depending on the number of breaks. At the same time, it is possible to hike a shorter version of the Gruvdammsrundan trail via an alternative stage that divides the circular loop and passes Gräskärret lake. Starting and finishing in Stadsparken park, the lower loop of the Gruvdammsrundan trail is 22 km long and takes 6-7 hours to walk. The upper loop, starting and ending at Järndammen lake, is only 11 km long and takes approximately 3 hours to hike. Pay attention to signs directing you toward Grässkärret lake and Järndammen lake at the two main intersections, so you choose the right route.
The start of the Gruvdammsrundan trail is marked by a small sign behind the mini-golf course at Sala's Stadsparken park. The trail then follows one of the historic waterways to Mellandammen lake. There, you can choose whether you want to walk the trail counterclockwise or clockwise. Whichever direction you choose, you will initially walk a few kilometres through the idyllic Swedish countryside before the trail takes you deep into the forests of the Västmanland region and among its historic waterways.
If you want to grab a meal in Sala, and you're arriving by train or bus, you have to visit Café Jernvägen. Located just by Sala's old train station, Café Jernvägen serves not only coffee but also a delicious lunch and dinner menu along with a wide selection of beer and wine. There's also Måns Ol's Inn, which you'll pass on the Gruvdammsrundan trail. A family-run inn with a fantastic view of Lake Långforsen, it's famous for its home-cooked meals using local ingredients that are served both buffet and à la carte.
For those who want to extend their stay in Sala, there are a number of fine overnight accommodations to choose from. At Sala Silvergruva (Sala's Silver Mine), you can actually stay in the midst of a historic recreation at the homey Gruvgården's Bed & Breakfast. For visitors that have a car and are animal lovers, check out the family-run Norrängens Alpacka Boutiquehotell (Norrängen's Alpaca Boutique Hotel). The small hotel is located in the countryside a bit outside Sala and is known for its exotic alpacas that guests can take for forest walks. For anyone who prefers to camp out in a tent or is travelling in a motorhome/caravan, the Gruvdammsrundan trail passes by the charming Silvköparen's Camping., which can accommodate both.
If you want to experience the Gruvdammsrundan trail with a guide and learn more about the outdoors, Outdoor Vagabond is a local company that offers guided adventure tours along the trail.
For more information about what the "Silver City" of Sala has to offer, visit www.destinationsala.se
Facts

Fiskekort:

I samtliga sjöar som du möter längs Gruvdammsrundan är fiske tillåtet mot lösande av fiskekort. Mer information om fiskekort hur du löser fiskekort finns på Sala kommuns webbplats
Directions

The Gruvdammsrundan trail begins and ends at a small sign in Sala's beautiful Stadsparken park, behind the mini-golf course. The Stadsparken park is less than 500 m from the city's bus and train station. The parking facilities at the station are free to use for up to 48 hours with a P-skiva (parking disc), and there are two charging stations for electric vehicles.

To reach the Stadsparken park from the station, follow Aguéligatan street straight from the station and towards the Kristinakyrkan church. At Kristinakyrkan church, turn right and follow Gruvgatan street to Stadsparken park.

The upper Gruvdammsrundan trail loop begins at Järndammen lake, which is 10 km from the Sala bus and train station. You can get here by bike, car or taxi. Follow the Dalhemsleden trail from Sala until you reach the outskirts of the city. Shortly afterwards, the Dalhemsleden trail will start to run parallel to the railway tracks. Take the first right turn that leads over the tracks. From there, you can follow the signs that take you to Järndammen lake along a gravel rural road.
Communications
Parking

Avgiftsfri parkering vid Sala station och Järndammen i 48 timmar med P-skiva. Vid Sala stations långtidsparkering finns även två laddstationer för elbil. Parkera vid en av de två parkeringarna vid Järndammen om du endast planerar att gå Gruvdammsrundans övre slinga på 11 km. Vänligen se kartan ovan för övriga parkeringsplatser i närheten av Gruvdammsrundan.
Surface

Varierat underlag: preparerade grusstigar, naturliga skogsstigar och en del steniga partier. Övervägande flack terräng.